Dark Chocolate Granola + Valentine's Twist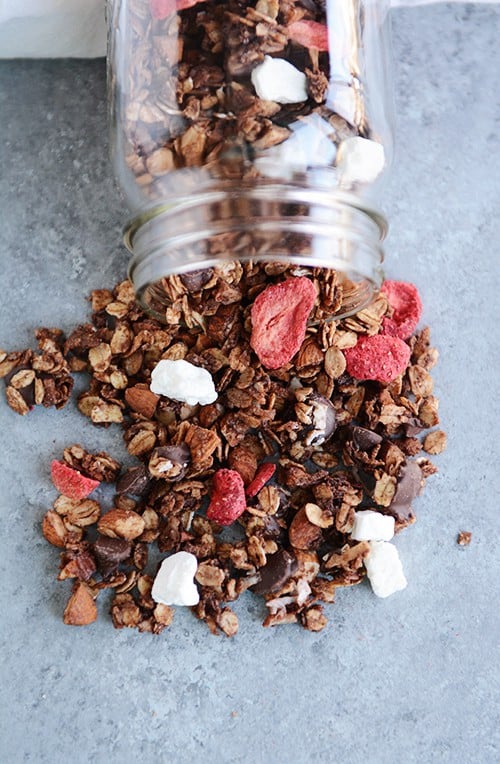 I'd have no business telling you how utterly addicting and delicious and fantastic this granola is except that I've made six batches in the last two weeks and am therefore declaring myself an expert in everything dark chocolate granola.
It's a talent rare few possess, this dark chocolate granola know-it-all business.
Talk about addicting. We've been eating this tasty granola blend on vanilla yogurt every day for who knows how long (and we aren't counting because we're just enjoying).
So tremendously yummy. I cannot get over how much I love those little pockets of melted dark chocolate throughout the granola. It's heavenly. Absolute heavenly.
And if the dark chocolate granola wasn't fabulous enough, how pretty is it with the freeze-dried strawberries and yogurt bites peppered throughout?
Not only do they add a perfect pop of Valentine's (or anytime) color but the sweet tartness of the strawberries adds a delightfully fresh crunch and the creamy yogurt bites are never bad. Never, ever.
FYI: I've mentioned before that I snag all my freeze-dried faves from ThriveLife and am a huge fan of their company. My love is unsolicited. They don't know me, pay me, send me free stuff, or really care I even exist (that'd be a sad thought except I have a big bowl of dark chocolate granola right here to make me feel better).
I've been a customer for years and finally convinced my sister, Emily, to try it out (she's now a consultant which makes me proud that I finally was the one to tell her about something cool since she's always the one finding the neat-o stuff and I'm, like, the last person on the planet to find out about it).
Em asked me to do a short and simple step-by-step video for her new YouTube channel since she's growing her business and because this granola kind of rocked both of our worlds.
I have a feeling this chocolate granola would be the perfect little Valentine's snack/treat for a school party packaged up all cutesie except, judging by many of your comments over the years, I think homemade treats at public school may be a thing of the past?
Well, think of it this way – at least you don't have to share.
Based off a long-time granola favorite, this yummy chocolate version is fabulous plain or with those extra specials thrown in there.
My bet is you won't be able to eat just one handful. And I don't want to be forceful or anything but keep in mind, you should probably respect my opinion since I am an expert after all.
One Year Ago: A Few Valentine's Favorites
Two Years Ago: Strawberries and Cream Stuffed French Toast
Three Years Ago: Nutella and Strawberry Stuffed French Toast
Dark Chocolate Granola + Valentine's Twist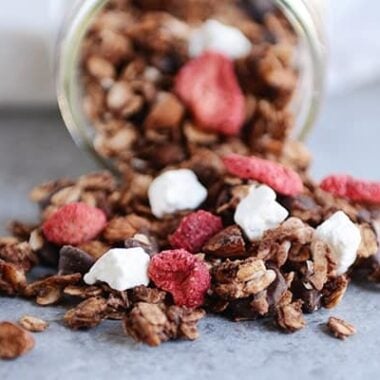 Ingredients:
3 cups (10.5 ounces) rolled oats (not quick)
1 cup (6 ounces) coarsely chopped almonds
3/4 cup (3 ounces) sweetened or unsweetened shredded coconut
1/2 cup (2 ounces) unsweetened, Dutch-process or dark cocoa powder
1/3 cup (2.5 ounces) light or dark brown sugar
1/4 cup pure maple syrup
1/4 cup melted coconut oil, avocado oil or a neutral oil like canola or vegetable oil
1 teaspoon vanilla extract
1/2 teaspoon coarse, kosher salt
1-2 cups (6-12 ounces) chocolate chips
Freeze-dried strawberries and vanilla yogurt bites (optional)
Directions:
Preheat the oven to 250 degrees F. Line two large (11X17-inches or so) baking sheets with parchment paper or silpat liners and set aside.
In a large bowl, combine the oats, almonds, coconut, cocoa powder and brown sugar and mix well.
In a separate bowl or liquid measuring cup, combine maple syrup, oil, vanilla and salt.
Slowly pour the maple syrup mixture over the oatmeal mixture, stirring well. Spread the granola evenly on the two prepared baking sheets.
Cook for 1 hour, stirring once or twice, until the granola smells fragrant. Add an additional 10-15 minutes if needed to help the granola crisp up a bit.
Remove the granola from the oven and immediately sprinkle the chocolate chips on top. Stir very lightly if you want to incorporate them a bit into the granola and then walk away. Let the granola rest until the chocolate chips have melted and then cooled, 1-2 hours (you can speed this up by popping the baking sheets into the refrigerator).
Break the granola into clumps and add freeze-dried strawberries and vanilla yogurt bites, if desired. Store in an airtight container for 1-2 weeks.
Notes:
The freeze-dried strawberries and yogurt bites are optional but add a delicious texture and flavor combo to the dark chocolate granola (plus it pretties it up a bit). I get my freeze-dried strawberries and yogurt bites from ThriveLife.
All images and text ©
.
Follow @melskitchencafe on Instagram and show me the recipes you are making from my blog using the hashtag #melskitchencafe. I love seeing all the goodness you are whipping up in your kitchens!
Recipe Source: adapted from this favorite coconut and cashew granola