Chocolate Truffle Cookies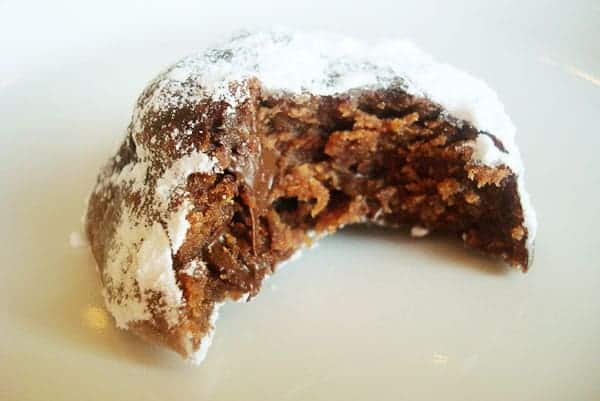 For the record, I've never made a heavier cookie than these babies. Heavy as in, I was getting a workout loading up plates of these cookies to give out to neighbors.
And heavy is a good, good thing when you are speaking in terms of dense, chocolate, truffley goodness. These cookies are most simply described as a truffle in cookie form and they are absolutely decadent.
A few words of advice, though: do not, whatever you do, serve these gorgeously delicious cookies to a group of five-year old boys.
They will a) absolutely not appreciate or respect the high-quality bittersweet chocolate chips you used and b) your kitchen will be smeared from floor to ceiling with powdered sugar.
Uh, I guess along with heavy, these cookies just might be the messiest ones I've ever made, too. But I promise you that if you follow my one strict rule about those five-year old boys, you won't be disappointed!
Two Years Ago: Shredded Chicken Pitas with Sun-dried Tomato Vinaigrette
Chocolate Truffle Cookies
Ingredients:
1 1/4 cups (2 1/2 sticks) butter, room temperature
2 cups powdered sugar
1/3 cup unsweetened cocoa powder
1/4 teaspoon salt
1/4 cup sour cream or plain yogurt
1 teaspoon vanilla extract
2 1/4 cups all purpose flour
2 cups semisweet or bittersweet chocolate chips
approximately 1/3 cup cocoa powder (for rolling)
approximately 2/3 cup powdered sugar (for rolling)
Directions:
Preheat the oven to 325 degrees. Line two baking sheets with parchment paper or silpat liners.
In a large bowl, cream together the butter and powdered sugar, adding the sugar in slowly so that it doesn't puff everywhere and transform your kitchen into a white mess. In a fine mesh strainer/sieve, place the cocoa powder and salt and sift this mixture into the butter/sugar and mix until well combined. Beat in the sour cream and vanilla extract. With the mixer on low, blend in the flour until no streaks of flour remain. Stir in the chocolate chips.
If your kitchen is very warm and the dough is hard to handle, refrigerate the dough for 30 to 60 minutes before rolling.
Shape the dough into 1-inch balls and roll each ball lightly in the cocoa powder and place on the baking sheet. Do not flatten the cookies. The cookies will not spread very much if the dough is chilled, so they can be placed fairly close together.
Bake the cookies for 10 minutes. They will just barely be set but you don't want to overbake or they will be dry. Let them cool on the baking sheet for 3-5 minutes and then transfer them to a wire rack to cool completely.
When the cookies have reached room temperature, after about 30-45 minutes, roll each cookie in powdered sugar until completely coated. Store in an airtight container.
Notes:
In the comments of the Baking Bites blog where this recipe was originally featured, several commenters mentioned their cookies had spread quite a bit. I didn't have a problem with that, but two tips I'd be aware of is first, to make sure your butter isn't overly soft – a cool room temperature is what you are looking for (you can tell if the butter is just right for creaming if you press your index finger into the butter and it gives just a little but it isn't easy for you to slide your finger all the way through). Second, chill the batter for 30 minutes if you are working in a warm kitchen or if your batter seems overly soft.
All images and text ©
.
Follow @melskitchencafe on Instagram and show me the recipes you are making from my blog using the hashtag #melskitchencafe. I love seeing all the goodness you are whipping up in your kitchens!
Recipe Source: from Baking Bites