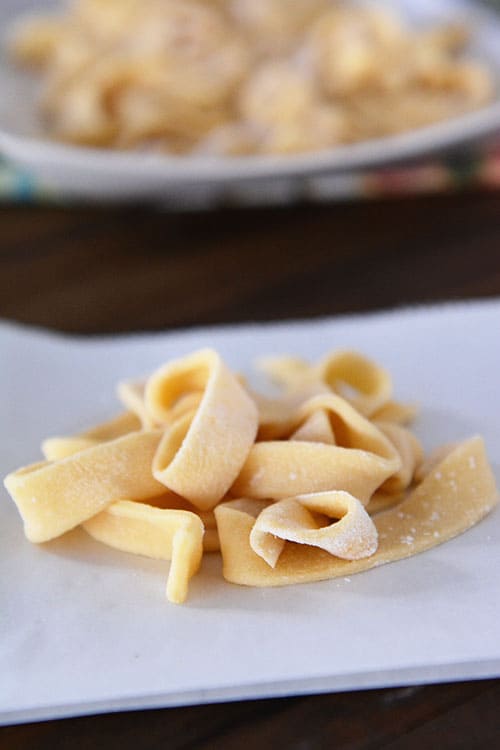 Homemade egg noodles are not part of my every day routine but I kind of wish I had a magical way to make enough time in the day so they were. I love them. They are homey and comforting and insanely yummy. Plus, I know we've been talking a lot about rock star status lately and how to achieve it in the kitchen but homemade noodles can skyrocket you right to the top of the rock star awesomeness list.
And they are super easy. Super, dee-duper easy.
Because I love you, I included a step-by-step tutorial below the recipe and added pictures for both the by-hand method (go, you!) or the food processor method (while easier, you'll still get rock star points).
Other than mixing a simple dough, letting it rest, rolling and cutting into strips, there's nothing tricky here. And if you have a real, life pasta roller machine, you can use that for rolling and cutting the dough (sometimes I pull mine out but most often, if we aren't doing a fun homemade pasta night with lots of sauces and toppings and just want homemade noodles for, say, chicken noodle soup, I do it the old-fashioned way – rolling pin and pizza wheel because I don't like cleaning my pasta maker; I'm lazy like that).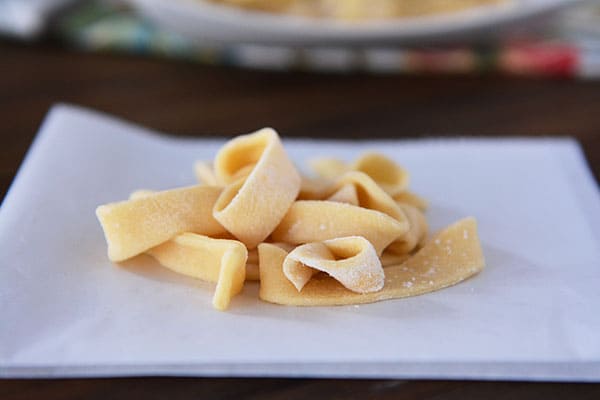 And if you want a real cheater method for chicken noodle soup, here's our go-to variation on nights I haven't prepped a whole, delicious chicken in the crockpot: I fill a 6-quart or so pot 2/3 of the way with good-quality low-sodium chicken broth (right now the Kirkland brand at Costco is my go-to), add chopped carrots, celery, salt and pepper and a bit of dried thyme, cover and simmer for 15 minutes or so until the veggies are mostly tender. Toss in leftover cooked chicken or rotisserie chicken (off the bone, obvs) and egg noodles (these homemade noodles can totally be made in advance and frozen or use store bought) and simmer until the noodles are cooked but not mushy.
My kids can down chicken noodle soup like no other. It's some kind of super human achievement that I'm hoping gets them into a good college some day. And when I happen to make chicken noodle soup with homemade noodles? Totally time to triple the recipe.
One Year Ago: Black Bean and Butternut Enchilada Skillet
Two Years Ago: Chocolate Chip Peanut Butter and Oatmeal Cookies
Three Years Ago: Pumpkin Cookies with Caramel Frosting
Easy Homemade Egg Noodles
So a batch of these noodles is the perfect amount for a very large pot of chicken noodle soup. I usually use half a batch of noodles for my family of seven (5 kids, 2 adults). The other half keeps great in the refrigerator or frozen (once they dry out a bit, see the last step in the recipe).
There's also a step-by-step tutorial below the recipe for those interested in pictures of the process. Also, when using homemade noodles in a recipe - if they are brand, spanking fresh (meaning they haven't dried at all), they'll only need a couple minutes in boiling water until they are tender. Even if they've dried a bit, they'll cook in far less time than packaged noodles from the store.
Ingredients
2 3/4 cups all-purpose flour (about 13.75 ounces)
3/4 teaspoon salt
1/2 teaspoon baking powder
4 large eggs
2-4 tablespoons milk
Directions
By Hand: Combine all the dry ingredients together in a large bowl. Make a well in the center and crack in the eggs. Pour in the milk (start with 2 tablespoons and add more if the mixture is too dry). Using a fork, whisk the mixture until it is mostly combined. It will look shaggy and have some dry spots. At this point, ditch the fork and get in there with your hands. Lift and knead the dough 5-6 times until there are no dry spots remaining and the dough forms a soft, slightly sticky ball. Cover the bowl and let the dough rest for an hour (or up to a couple of days in the refrigerator).
Food Processor: Combine all the dry ingredients and pulse a few times in the bowl of a food processor. With the motor running, add the eggs and mix until the dough is crumbly. Add the milk a tablespoon at a time until the dough forms a ball around the edges of the food processor bowl. It will be slightly sticky but if you pinch a little bit in your fingers and roll it, it should stay together in a little ball without leaving a lot of residue on your fingers. Transfer the dough to a clean bowl, patting into a round ball. Cover the bowl with plastic wrap and let rest for an hour (or up to a couple of days in the refrigerator).
On a lightly floured counter or mat, press the dough into a thick disc-shape. Using a rolling pin, roll the dough as thin as you like into a large rectangle-ish shape - keeping in mind the noodles will puff up quite a bit while boiling - I suggest rolling to at least 1/8-inch thick. See the pictures below for an example. A good rule of thumb is to roll them thinner than you think.
Using a pizza cutter or knife, slice the dough into strips for noodles, depending on how thick you want them. I like to cut the entire rectangle in half when finished so the noodles aren't insanely long.
Use the noodles immediately or let them dry in an even layer on a lightly floured parchment-lined baking sheet (it will probably take several sheets).
If I make these in advance, I let them dry a bit and then toss them in a ziploc bag (they should be dry enough not to stick together) and refrigerate them for a couple of days or freeze them indefinitely.
https://www.melskitchencafe.com/easy-homemade-egg-noodles/
Printed from Mel\'s Kitchen Cafe (www.melskitchencafe.com)
Recipe Source: from Mel's Kitchen Cafe (based on an old recipe my mom made growing up)