These really are the best sloppy joes ever! Quick, easy, classic, and totally delicious, they are perfect for a weeknight OR for serving to company!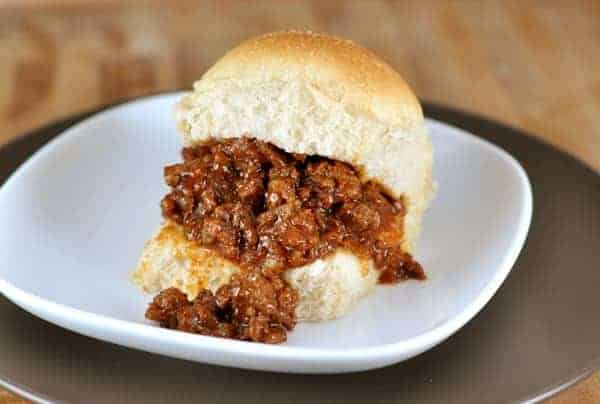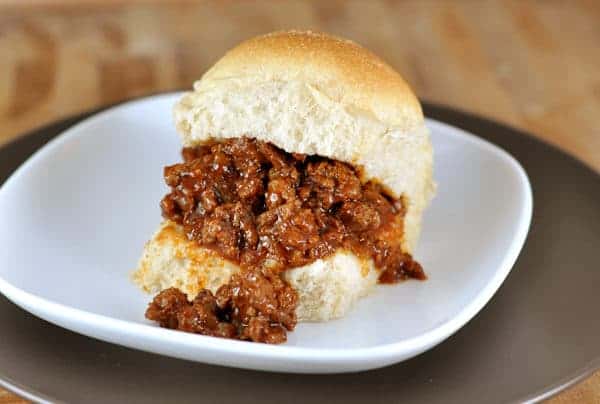 I know it gets redundant reading recipes that start with "the best" or "the ultimate" but these really are the best sloppy joes I've ever had.
Really. The best.
To be honest, I never liked sloppy joes until I tried these. It was the dreaded meal (that and Shepherd's Pie) that my mom made growing up (sorry mom!).
I never even thought about making them for my family until I came across this recipe a few years ago and decided to take a chance.
They were delicious and I've been making them ever since (we're talking almost a decade here). I've even made them in enormous batches to feed over 100 people at a time.
Granted, after those episodes, I've had to take a break from sloppy joes for a while, but generally, thanks to this recipe, I'm all in all the time for a good ol' sloppy joe.
These are less tomato-ey and more smokey and BBQ-ey than traditional sloppy joes.
Keep in mind that the roll makes all the difference – good bread equals a fabulous sloppy joe! I serve these sloppy joes on my french bread rolls – which I usually have made and ready in the freezer.
My kids always roll their eyes when it's sloppy joe night because I can never withhold from singing the hilarious Adam Sandler Lunch Lady song (well, just the chorus that highlights the almighty sloppy joe).
Please tell me I'm not the only one that loves that song. Makes me giggle just thinking about it.
Here. Here's a YouTube link just in case you've been missing out your whole life.
Quick, easy, classic and totally delicious. Glad you are back in my life, sloppy joe.

French Bread Rolls (for the bun)
An awesome side like this: Barbecue Macaroni Salad, Coleslaw, or these Boston Baked Beans
Fresh vegetables and/or green salad
Yield: 8-10 servings

Prep Time: 10 minutes

Cook Time: 28 minutes

Total Time: 38 minutes
Ingredients
2 tablespoons vegetable oil
1 to 2 onions, roughly chopped
2 ½ pounds ground beef or lean ground turkey
2 tablespoons tomato paste
2/3 cup smoky BBQ sauce (or this awesome homemade version)
½ cup ketchup
¼ cup Worcestershire sauce
¼ cup soy sauce
Freshly ground black pepper
8 to 12 rolls or buns
Instructions
Preheat oven to 300 degrees.
Heat the oil in a large skillet over medium heat. Add the onions and cook, stirring, until they start to turn translucent, about 4 minutes. Add the beef and cook, stirring and breaking up the meat, until it is finely crumbled, the liquid boils off and the meat begins to brown, about 10 minutes. Drain the grease off the meat and onions. Stir in the tomato paste, and keep stirring until the meat is coated. Add the BBQ sauce, ketchup, Worcestershire, soy sauce, and pepper, and bring to a boil. Cook until the sauce is slightly thickened, 4 to 5 minutes. You can make the sloppy joe meat up to 2 days in advance and reheat it over low heat or in the microwave.
Wrap the rolls in aluminum foil and warm in the oven for about 10 minutes. Serve the sloppy joes hot with the warmed rolls.
Notes
Freezable Meals: the leftover sloppy joes can be frozen. I store it in a freezer-safe container and then thaw in the refrigerator prior to serving. I reheat on medium-low heat in a saucepan on the stove.
Recommended Products
As an Amazon Associate and member of other affiliate programs, I earn from qualifying purchases.

Recipe Source: adapted from Dave Lieberman