Beach Street Lemon Chicken Pasta
One of my favorite pasta dishes ever, this Beach Street lemon chicken pasta is amazing! It's a simple recipe that comes together fast with incredible flavor!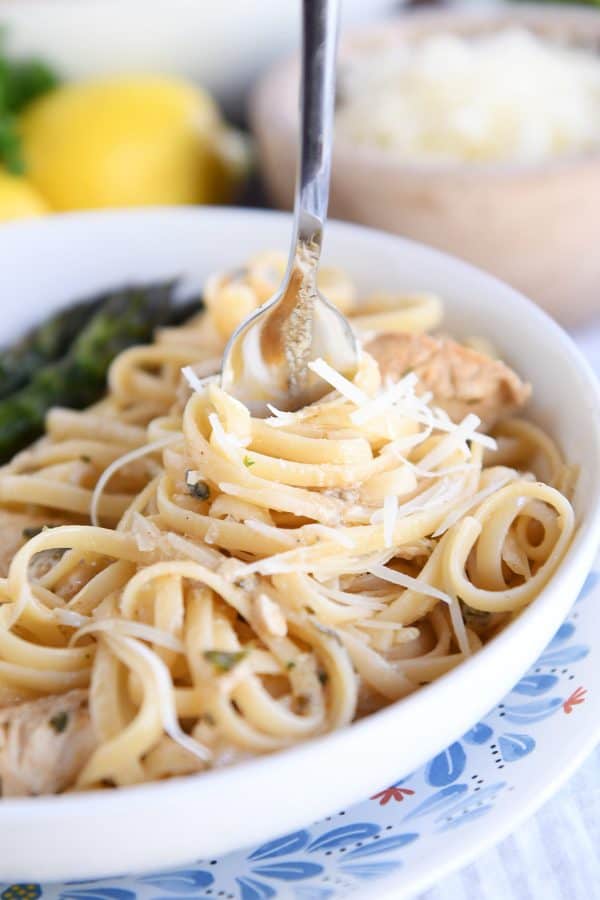 If this Beach Street lemon chicken pasta hasn't been part of your regular dinner rotation, now is the time to change that!
Packed with delicious, interesting flavors, this simple pasta dish is easy and fast, which makes it perfect for a busy weeknight.
BUT, it's also amazing enough for company or as a weekend "fun" meal. With all the bright, fresh flavors, it tastes like something straight out of your favorite restaurant.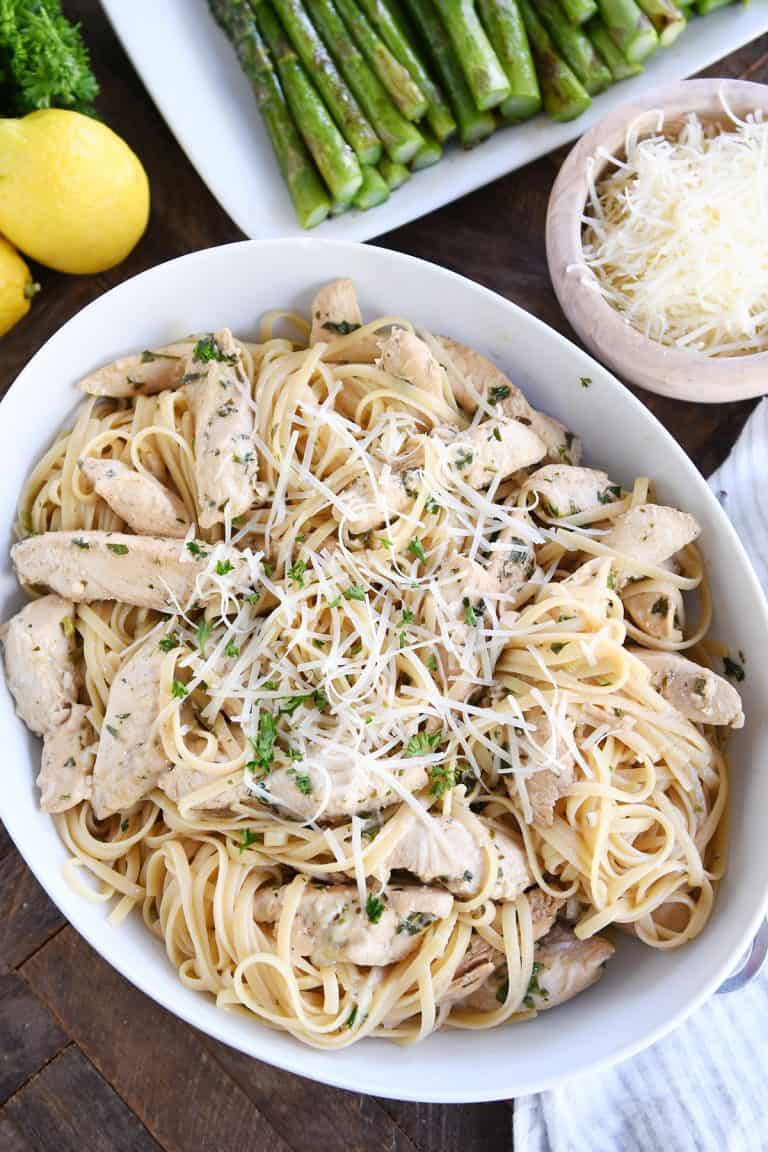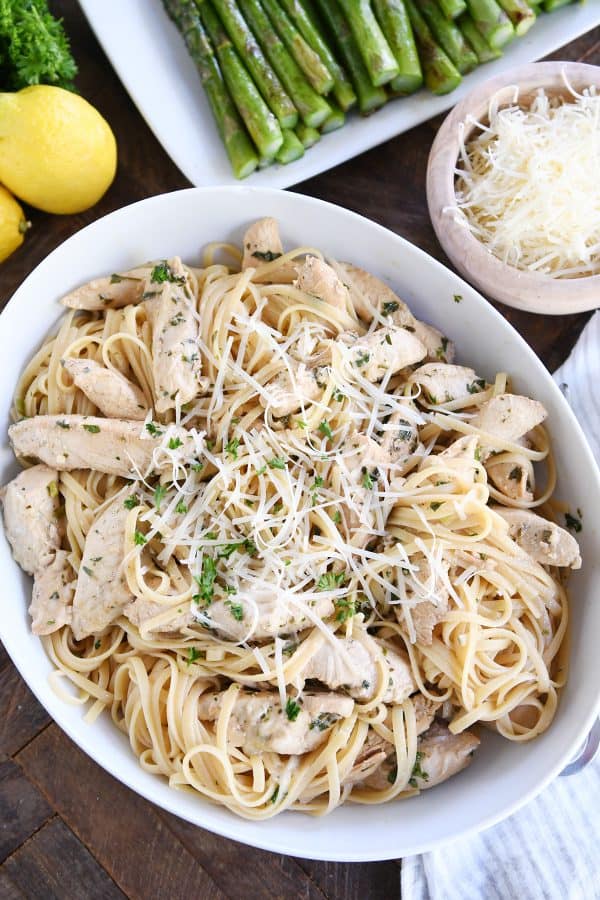 Simple, simple, simple
The idea behind this stellar pasta dish is really simple:
marinated chicken
cooked pasta tossed with lemon + green onions + parsley
healthy dose of Parmesan cheese
The chicken marinade packs a ton of flavor into this dish.
Hints of brown sugar, soy sauce, garlic, and Cajun seasoning (so yummy!) pair perfectly with the main notes of fresh lemon juice.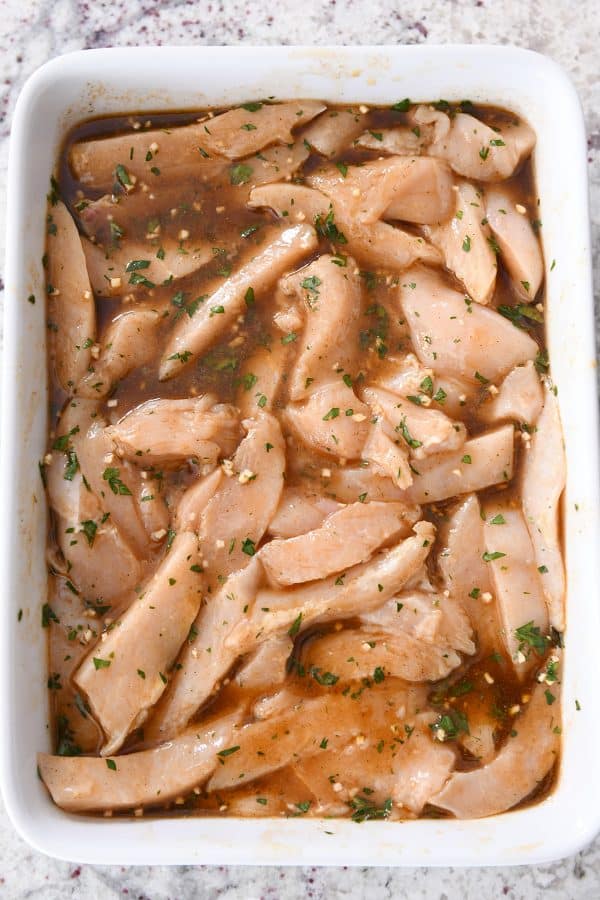 The chicken can marinate for as little as an hour, but it really benefits from at least 6-7 hours (and can marinate as long as overnight).
All of it (chicken and marinade) dumps into a hot skillet to cook JUST until the chicken is tender. Over medium-high heat, the chicken pieces will cook pretty quickly. Think: 4-5 minutes max. Don't overcook the chicken!
Meanwhile, cook and drain the pasta and then toss it with that zesty, bright mixture of lemon juice, zest, green onions and parsley. You can use linguine, spaghetti, fettuccine. And I'm sure it would work great with tube pasta, too.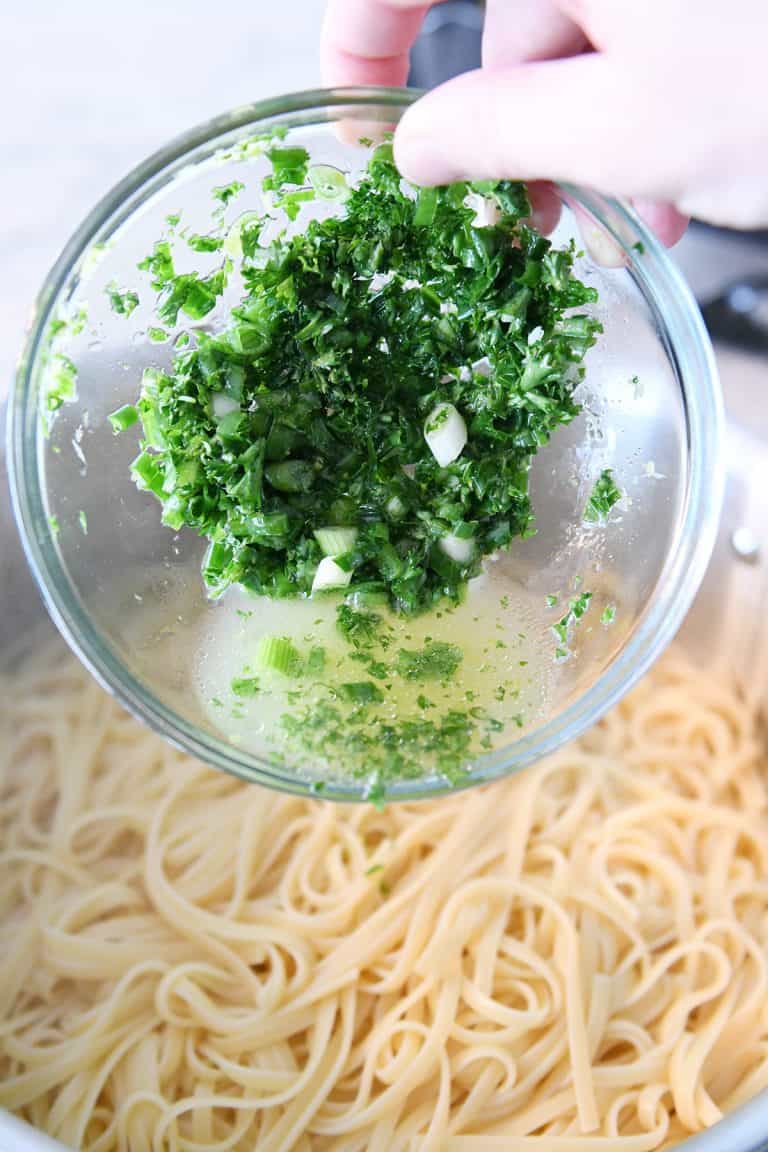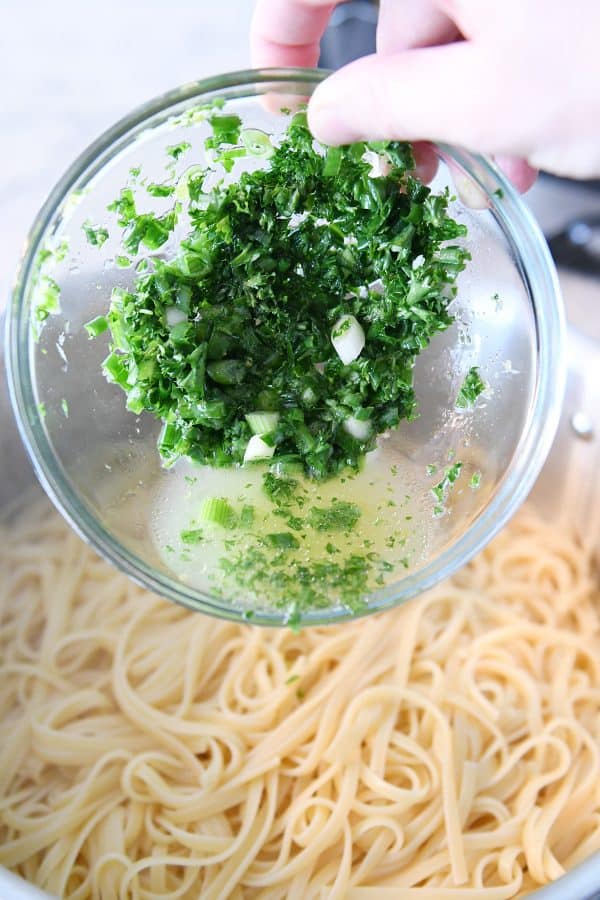 Then dump the pasta into the skillet with the cooked chicken and marinade. It won't be overly saucy – there will probably just be a little bit of marinade/sauce on the bottom of the skillet.
But the flavor in that simmered down marinade is concentrated and deeeeelicious!
Toss it all together!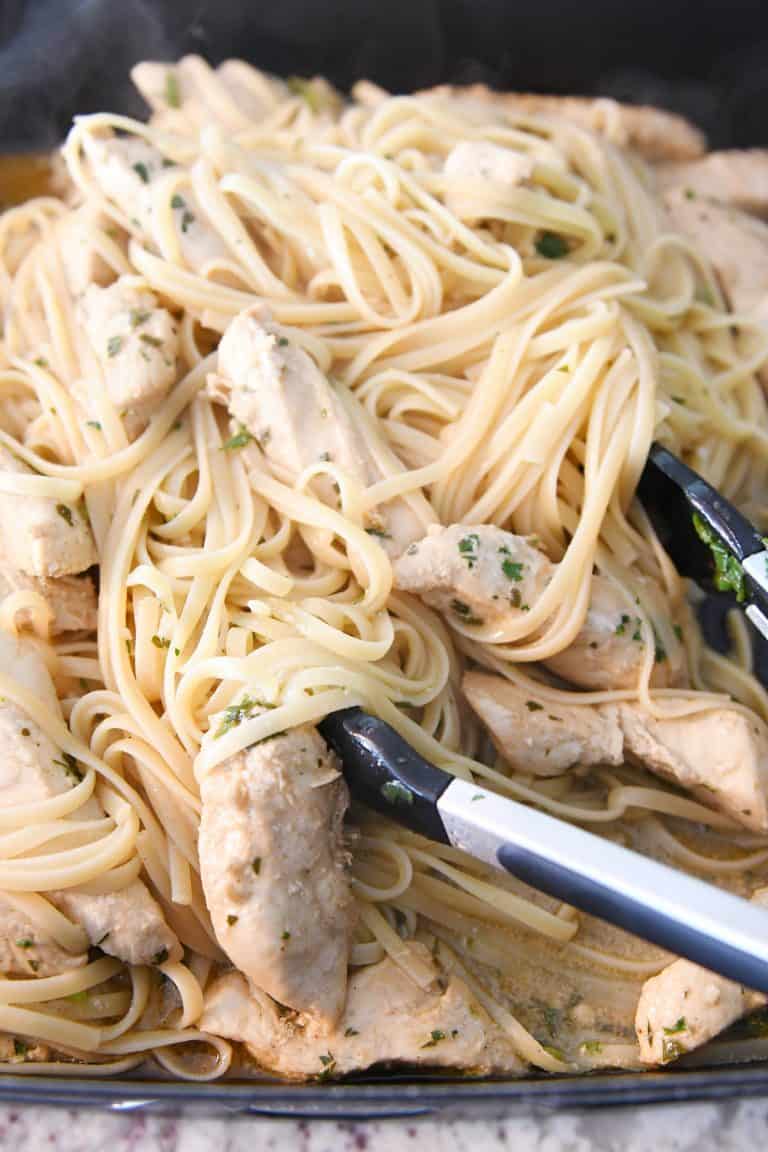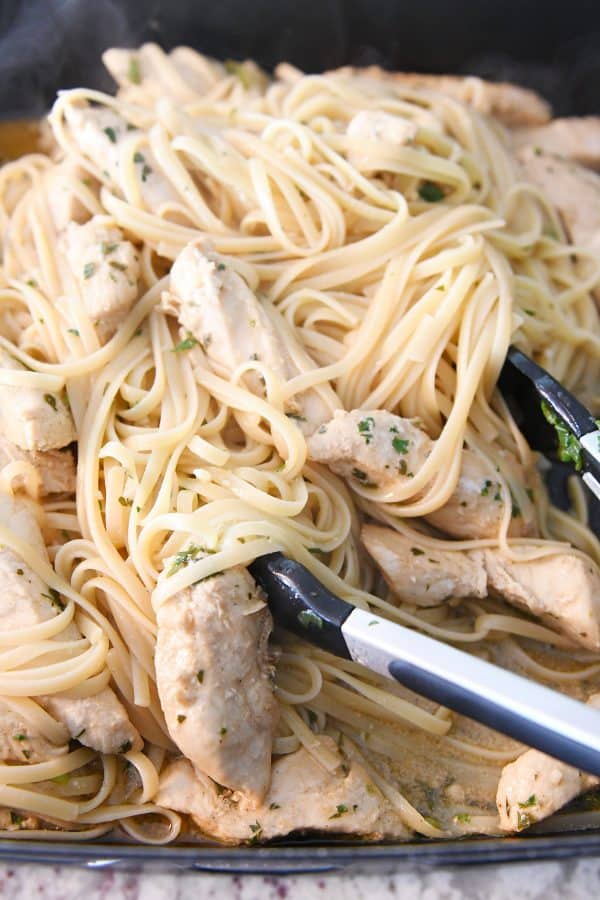 Serve the finished pasta with a good amount of parmesan cheese!
Such an unassuming dish, this Beach Street lemon chicken pasta has been a regular part of our dinners for over ten years.
I love when pasta dishes include a little lemon, but this dish is extra unique thanks to the kick of Cajun seasoning. You can dial that up or down as needed, but don't leave it out! It's essential.
Light and refreshing, this is definitely one of my favorite pasta dishes of all time.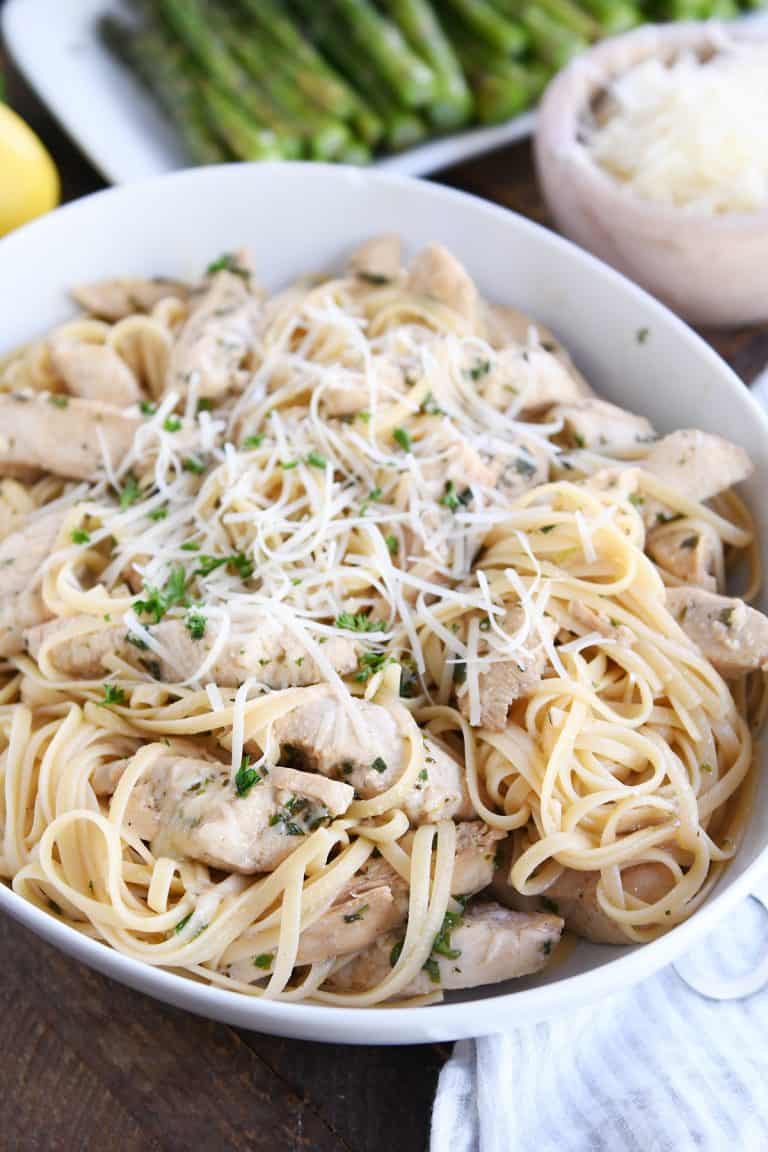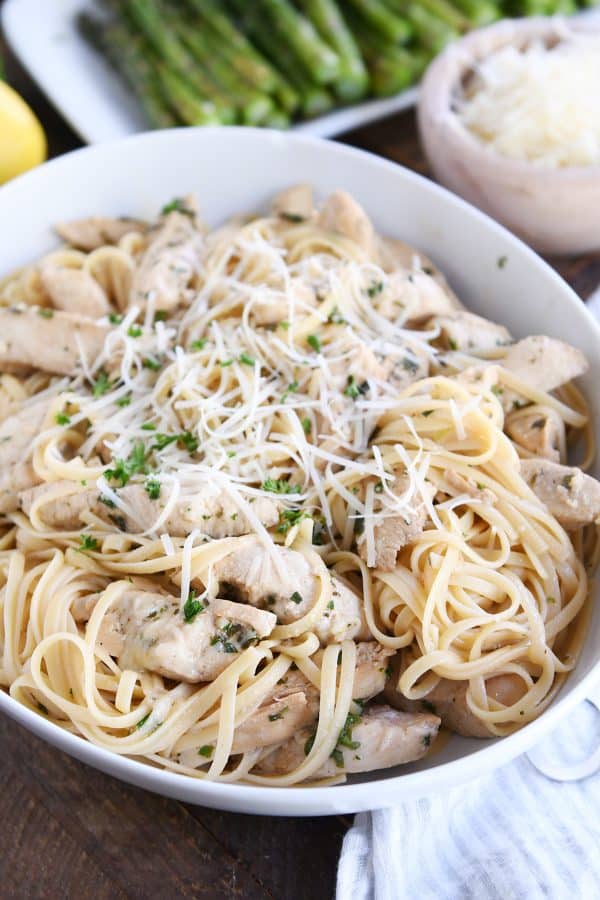 5-minute skillet broccoli or roasted asparagus
Divine breadsticks
Beach Street Lemon Chicken Linguine
Yield: 6 servings

Prep Time: 25 minutes

Cook Time: 12 minutes

Additional Time: 3 hours

Total Time: 3 hours 37 minutes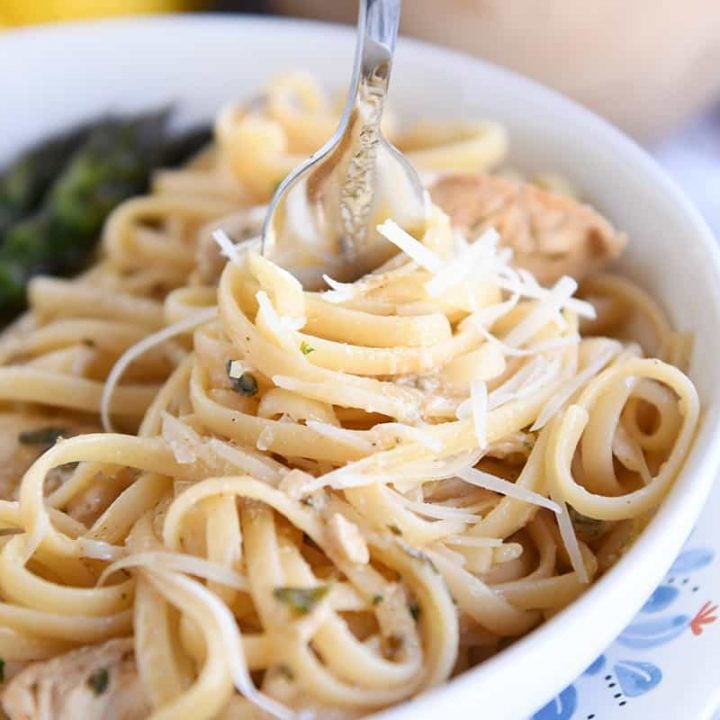 Ingredients
Pasta:
1 pound linguine, spaghetti or fettuccine
2 tablespoons olive oil
1 teaspoon fresh lemon zest (from 1 medium lemon)
2 to 3 tablespoons fresh lemon juice (from 1-2 medium lemons)
2 to 3 green onions, finely chopped (white and green parts)
1/4 cup chopped fresh parsley
Salt and freshly ground pepper
1/2 to 1 cup grated Parmesan cheese
Marinade:
1/2 cup olive oil
4 cloves garlic, crushed or finely minced
2 tablespoons brown sugar
1 tablespoon Cajun seasoning (see note)
1/3 cup fresh lemon juice (from about 2-3 medium lemons)
1/4 cup minced fresh parsley
1/4 cup soy sauce
1 to 1 1/2 pounds chicken breasts, sliced into 1/2-inch strips or bite-size pieces
Instructions
For the marinade, combine the olive oil, garlic, brown sugar, cajun seasoning, lemon juice, parsley, and soy sauce. Toss the marinade and chicken together in a shallow dish or ziploc bag. Cover and refrigerate at least an hour or up to 12 (better flavor the longer it marinades).
For the pasta, combine juice of one lemon, lemon zest, olive oil, green onions and fresh parsley together in a small bowl. Set aside.
Cook pasta in lightly salted water until al dente according to package directions. Drain and return to the pot off the heat. Pour the lemon juice/olive oil/green onion mixture over pasta and toss lightly to combine.
Heat a 12-inch skillet over medium heat; add the marinade AND the chicken to the skillet, moving the chicken pieces so they are in a single layer. Cook over medium-high heat until the chicken is cooked through, 4-5 minutes.
Add the pasta to the skillet with the chicken OR pour the chicken and cooked marinade over the pasta in the pot (whichever will fit the mixture best). Toss with Parmesan cheese and season to taste with salt and pepper, if needed. Serve immediately with extra Parmesan cheese, if desired.
Notes
Updates: over the years, I've increased the amount of chicken in the recipe (and also the marinade accordingly). If you're looking for the original amounts, they are 2 chicken breasts and the following for the marinade 1/2 cup olive oil, 2 garlic cloves, 1 tablespoon cajun seasoning, juice of one lemon, 2 tablespoons minced parsley, 2 tablespoons brown sugar, 2 tablespoons soy sauce.

Cajun Seasoning: different brands will have a different flavor profile, but all will carry a bit of heat. You can dial the amount in the recipe up or down as needed, but don't leave it out completely! For flavor without a lot of heat, try 1 teaspoon.
Recommended Products
As an Amazon Associate and member of other affiliate programs, I earn from qualifying purchases.

Recipe Source: adapted from Deals to Meals
Originally posted July 2009; updated May 2020 with new photos, recipe notes, etc.