Strawberry Rhubarb Pie
This best-ever strawberry rhubarb pie is filled to brimming with juicy, sweet strawberries, tart rhubarb, and the most delectable, buttery streusel topping. It's my favorite summer pie!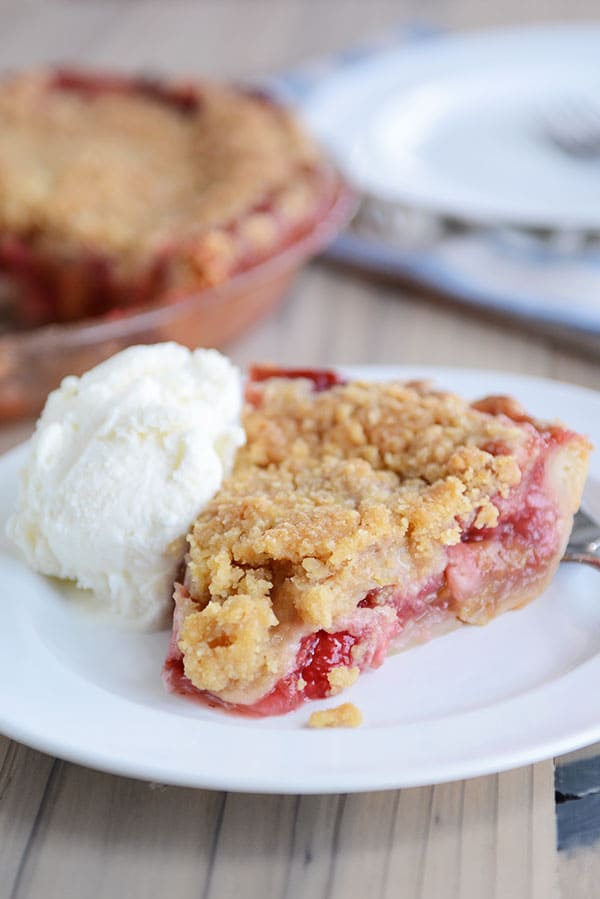 I wait for rhubarb season all year long just to make this pie. There is no question about it being my most favorite summer pie by a landslide.
No competition.
Years ago when we lived in Wisconsin, sadly without a rhubarb plant anywhere in our yard, I cozied up to my new neighbors for months, just in the off-chance I might be able to hint at "borrowing" some rhubarb.
They were kind enough to let me continue to borrow while we lived there…and actually managed to become wonderful friends despite my habit of literally using up every stalk on their rhubarb plant.
Fast forward to our time in Minnesota and we landed on property that held over 15 rhubarb plants!
Seriously, we were swimming in rhubarb. I even made rhubarb jam once to try and use it up (not the best jam ever, unfortunately).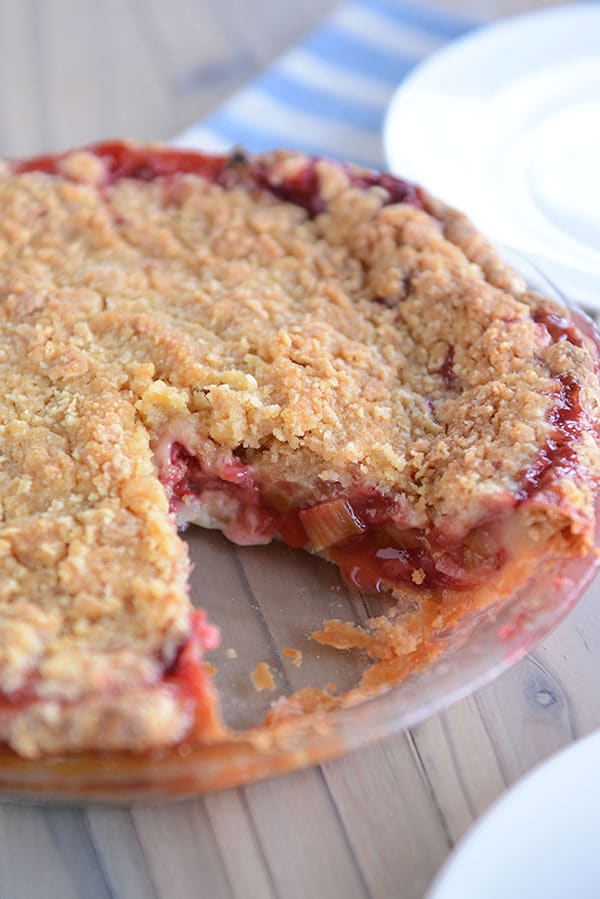 I remember giving wagon loads of rhubarb away to people at church.
And by giving away, I mean, I loaded up their trunks stealthily during the Sunday School hour before sneaking back into church.
Now, here in Idaho, I'm back to being rhubarb deprived.
We finally planted a rhubarb start last year and got a few puny stalks this year; I'm spending lots of time outside speaking loving, positive words to my rhubarb plant.
Grow, grow, GROW, dang it!
Of course I have a few much-loved rhubarb recipes that spur along my obsession.
This Rhubarb Streusel Cake with Warm Vanilla Sauce is insanely delicious (have you made it?).
And these Brown Sugar Rhubarb Muffins are tasty, tasty.
But by far, my most favorite thing to make with fresh rhubarb is this strawberry rhubarb pie.
Filled to brimming with juicy, sweet strawberries and tart rhubarb, it is uncomplicated and perfect.
And every time I make it, I think that all pies should here on out and forever be topped with a buttery, golden streusel.
It just wouldn't be the same strawberry rhubarb pie without it, you know?
As you may notice from the recipe, you'll need an unbaked, 9-inch pie crust for this delectable pie.
You already know about my most-loved, no-fail pie crust recipe (even has a video tutorial!). It's literally the only pie crust recipe I've used in the last several years.
But feel free to use your favorite homemade or storebought crust. Because really, it's all about the strawberries and rhubarbs (and streusel!) here.
And above all, make sure this pie happens before rhubarb season is long gone for another year!
Also, here are a few of my most-used pie making supplies:
Disclaimer: Amazon affiliate links listed below.
-This 9-inch pie plate is functional, inexpensive, durable and wonderful. I've had mine for at least a decade, if not longer.
-Pie server = not optional. This is the one I have and I love it.
-I have this pastry cloth/board for rolling out pie crusts (I got it years ago in Minnesota when I was learning how to make lefse), and honestly, it has changed my pie-making game. It makes rolling out pie crusts so foolproof. I love it and can't recommend it enough.
-Fave rolling pin right here. Nothing fancy – all function.
Also, if you are wanting an extra boost in pie making confidence, check out my Pie Boot Camp Series HERE! The series includes:
All About Pie Making Equipment Essentials
How to Make Pie Crust (Foolproof Recipe, Rolling Out, Crimping + Video Tutorial)
All About Blind Baking + How to Do It and Why (Bonus: Chocolate Ganache Cream Pie Recipe)
Double Crust Pies and How to Make an Easy Lattice Crust (Bonus: Printable for Easy Reference to Sum Up Pie Boot Camp)
One Year Ago: Summer Roasted Vegetable Orzo Salad with Fresh Basil
Two Years Ago: Little Lemonies (Lemon Brownies)
Three Years Ago: No-Bake Chocolate Granola Bites
Yield: 9-inch pie

Prep Time: 15 minutes

Cook Time: 55 minutes

Total Time: 1 hour 10 minutes
Ingredients
Single crust pie dough (see note)
Filling:
2 3/4 to 3 cups sliced rhubarb about 1/4-inch thick (about 5-6 medium stalks or 12-16 ounces)
2 cups sliced strawberries (about 12 ounces)
2/3 cup (5 ounces) granulated sugar
3 tablespoons cornstarch
Streusel Topping:
1 cup (5 ounces) all-purpose flour
1/2 cup (3.75 ounces) brown sugar
1/2 cup (4 ounces, 8 tablespoons) cold butter, cut into tablespoon-size pieces
Instructions
In a large bowl, combine the rhubarb, strawberries, sugar and cornstarch. Mix well. The mixture will start to turn thick and syrupy as it is stirred.
Roll out the pie crust and place in a 9-inch pie plate, trimming and fluting the edges.
Pour the strawberry/rhubarb mixture evenly in the crust.
In a small bowl, combine the flour and brown sugar.
Add the butter, and using a pastry cutter or two knives, cut in the butter to the flour/sugar mixture until it has the consistency of coarse crumbs.
Sprinkle the streusel topping evenly over the top of the pie (but not covering the edges of the pie crust).
Place the pie on a rimmed baking sheet (in case any of the filling bubbles out), and bake at 375 degrees for 50-55 minutes (see note for time edit - over the years, I've started baking this pie for 75-90 minutes so it's fully set up and not runny), until the streusel is golden and the filling is bubbling and hot. Cover the pie crust edges halfway with foil or a pie crust shield to prevent over-browning, if needed.
Let the pie cool completely before cutting (the filling will thicken as it cools). Serve with a scoop of vanilla ice cream or sweetened, whipped cream, if desired!
Notes
Baking Temperature: the original recipe baked at 400 degrees F; over the years, I've found I like the result of baking at 375 degrees better so the crust doesn't burn. 

Time: I used to bake this pie for about 60 minutes but over the years, I've increased that to 75-90 minutes (I'm guessing this might be due to a change in ovens as I've moved, since each oven bakes differently). Baking for longer helps the filling thicken and gel so it sets up fully once cooled. Check the pie after the 60 minute mark and tent with foil if the streusel and pie crust edges are browning too much.

Rhubarb: I've made this pie once or twice with frozen rhubarb - it isn't quite the same, but can be used in a pinch (I recommend thawing and draining before using).

Pie Crust: My favorite homemade pie crust is this one or this one.
Recommended Products
As an Amazon Associate and member of other affiliate programs, I earn from qualifying purchases.

Recipe Source: Mel's Kitchen Cafe
Recipe originally published May 2010; updated with new photos, commentary and recipe notes.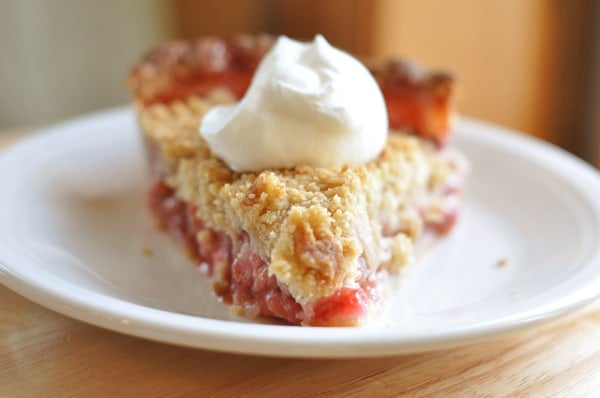 —————————————-
Update: this pie crust recipe (below) was included in the original post for Strawberry Rhubarb Pie seven years ago. Over the years, I've come to rely on this no-fail pie crust as my favorite, go-to pie crust, but I'll leave the following recipe listed in this post in case anyone still uses it (don't want anyone panicking over a lost recipe!).
No-Chill All-Butter Pie Crust
adapted slightly from Jen K.
*Note: this pie crust makes for a sweeter-than-normal pie crust. If you want more of a traditional pie crust, since they aren't known for being overly sweet, decrease the sugar by half.
*Makes 2 pie crusts (for 2 single pies or 1 double crust pie)
1 cup (2 sticks) very cold butter (I cut my butter into about 16 small pieces, put them on a plate and place the plate in the freezer for about 15 minutes before using in the recipe)
2 cups all-purpose flour
1/4 cup sugar
1/4 teaspoon salt
1/4 cup very cold water, plus an additional tablespoon or two if needed
In a food processor or stand mixer fitted with the paddle attachment (or in a large bowl, if mixing the dough by hand), combine the flour, sugar, and salt. Mix for a second or two to blend. Add the butter and, on low speed (or by hand with two knives or a pastry cutter), work the mixture until it is crumbly and the largest pieces of butter are no bigger than a pea. The butter should remain cold and firm. If the butter is becoming too soft, refrigerate the mixture for a 10-15 before continuing. Once the butter/flour mixture resembles large coarse crumbs, on low speed (or tossing with a fork, if mixing by hand), sprinkle the 1/4 cup cold water evenly over the flour mixture, and mix just until it pulls together in a shaggy mass. Add a tablespoon of cold water additionally at a time if the dough isn't pulling together well. The object isn't to have a smooth, tight ball of dough – the dough should still have loose pieces of flour here and there but should just start coming together when the water is mixed in.
Dump the dough out onto a work surface. Using your hands, pull the dough together and gently press it into a large ball. It should start joining more cohesively and forming more of a dough-like consistency. Separate the dough in to two pieces. Set one piece aside and gently cover while working with the other.
Using a lightly floured work surface (a roul'pat works great here!), begin rolling from the center of the dough outward. Stop the pressure 1/4 inch from the edge of the dough. Lift the dough and turn by a quarter and repeat the rolling until the dough is at least 12 inches in diameter. The lifting and turning is important because this will let you know if the dough is sticking and if more flour is needed on your work surface.
Carefully fold the dough into quarters and place in the pie dish (or roll up on your rolling pin and gently unroll in the pie dish). Ease the dough into the bottom and up the sides of the pie dish without stretching (if the dough is stretched to fit the pie plate, it will shrink while baking). Using kitchen shears or a sharp knife, trim the excess dough around the edge of the pie plate so that there is still about 1/4 to 1/2-inch hanging over the edge of the pie plate. Fold this excess under the edge of the pie to form an extra thick edge on top of the pie plate rim. Flute the edges with your fingers. Cover the pie plate loosely with plastic wrap and refrigerate for at least 15 minutes or up to overnight before filling and baking. Repeat with the second half of the pie dough.
Disclaimer: I am a participant in the Amazon Services LLC Associates Program, an affiliate advertising program designed to provide a means for me to earn fees by linking to Amazon.com and affiliated sites. As an Amazon Associate I earn from qualifying purchases.