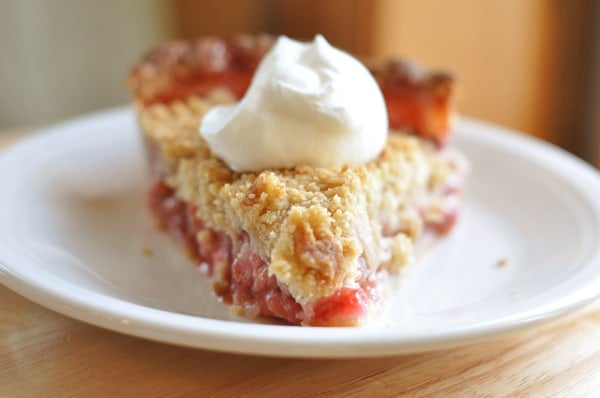 I wait for rhubarb season all year long just to make this pie. There is no question about it being my most favorite fruit pie by a landslide. No competition.
Since we haven't lived here long enough for me to grow my own rhubarb plant, thankfully we live next to neighbors who have a huge plant in their backyard. I've been cozying up to them for months, just in the off-chance I might be able to hint at "borrowing" some rhubarb. A few days ago, they graciously offered and I took them up on it (although they might have wanted to reconsider their offer after I picked nearly every stalk off their beautiful plant!).
This pie is filled to brimming with juicy, sweet strawberries, tart rhubarb and a healthy amount of sugar to help lessen the rhubarb's puckery flavor. Topped with a delicious and buttery streusel topping, this pie bakes up beautifully and is worth the pain of rolling out a pie crust (because as I've mentioned before, I loathe making pie crusts). I adore the strawberry/rhubarb combo and they compliment each other fantastically in this pie.
I went another direction with the pie crust this time and tried a recipe from Jen K., who sent it to me months ago. I couldn't believe how many bad words I didn't have to say this time! This crust rolled out beautifully with minimal issues on my part, and it is an all-butter pie crust, which I love for the flavor. I'll definitely be using this pie crust over and over.
One Year Ago: Baked Chicken Taquitos
Two Years Ago: Classic Granola and French Chocolate Granola
Note: using the pie crust recipe that follows below, I made the pie crust in advance and refrigerated it overnight (unbaked) before using with this pie.
Ingredients
1 unbaked single pie crust*
2 3/4 cups 1/4-inch sliced rhubarb, about 5-6 medium stalks
2 cups sliced strawberries
2/3 cup sugar
3 tablespoons cornstarch
1 cup flour
1/2 cup brown sugar
1/2 cup butter, cold
Directions
In a medium-large bowl, combine the rhubarb, strawberries, sugar and cornstarch. Mix well. The mixture should be thick and syrupy after being stirred well.
Roll out pie crust according to recipe instructions (see recipe below) and place in a 9- or 9.5-inch pie plate. Pour the strawberry/rhubarb mixture in the crust, using a large spoon to fill evenly.
In a small bowl, combine the flour and brown sugar. Cut the butter into pieces and using a pastry cutter or two knives, cut in the butter to the flour/sugar mixture until it has the consistency of coarse crumbs. Sprinkle the streusel topping evenly over the top of the pie.
Place the pie on a rimmed baking sheet and bake at 400 degrees for 50-55 minutes, covering the pie crust edges halfway with foil to prevent over-browning.
Let the pie cool completely before cutting into pieces. Serve with a dollop of freshly whipped cream, if desired.
https://www.melskitchencafe.com/strawberry-rhubarb-pie/
Printed from Mel\'s Kitchen Cafe (www.melskitchencafe.com)
Recipe Source: My Kitchen Cafe (www.melskitchencafe.com)
No-Chill All-Butter Pie Crust
adapted slightly from Jen K.
*Note: this pie crust makes for a sweeter-than-normal pie crust. If you want more of a traditional pie crust, since they aren't known for being overly sweet, decrease the sugar by half.
*Makes 2 pie crusts (for 2 single pies or 1 double crust pie)
1 cup (2 sticks) very cold butter (I cut my butter into about 16 small pieces, put them on a plate and place the plate in the freezer for about 15 minutes before using in the recipe)
2 cups all-purpose flour
1/4 cup sugar
1/4 teaspoon salt
1/4 cup very cold water, plus an additional tablespoon or two if needed
In a food processor or stand mixer fitted with the paddle attachment (or in a large bowl, if mixing the dough by hand), combine the flour, sugar, and salt. Mix for a second or two to blend. Add the butter and, on low speed (or by hand with two knives or a pastry cutter), work the mixture until it is crumbly and the largest pieces of butter are no bigger than a pea. The butter should remain cold and firm. If the butter is becoming too soft, refrigerate the mixture for a 10-15 before continuing. Once the butter/flour mixture resembles large coarse crumbs, on low speed (or tossing with a fork, if mixing by hand), sprinkle the 1/4 cup cold water evenly over the flour mixture, and mix just until it pulls together in a shaggy mass. Add a tablespoon of cold water additionally at a time if the dough isn't pulling together well. The object isn't to have a smooth, tight ball of dough – the dough should still have loose pieces of flour here and there but should just start coming together when the water is mixed in.
Dump the dough out onto a work surface. Using your hands, pull the dough together and gently press it into a large ball. It should start joining more cohesively and forming more of a dough-like consistency. Separate the dough in to two pieces. Set one piece aside and gently cover while working with the other.
Using a lightly floured work surface (a roul'pat works great here!), begin rolling from the center of the dough outward. Stop the pressure 1/4 inch from the edge of the dough. Lift the dough and turn by a quarter and repeat the rolling until the dough is at least 12 inches in diameter. The lifting and turning is important because this will let you know if the dough is sticking and if more flour is needed on your work surface.
Carefully fold the dough into quarters and place in the pie dish (or roll up on your rolling pin and gently unroll in the pie dish). Ease the dough into the bottom and up the sides of the pie dish without stretching (if the dough is stretched to fit the pie plate, it will shrink while baking). Using kitchen shears or a sharp knife, trim the excess dough around the edge of the pie plate so that there is still about 1/4 to 1/2-inch hanging over the edge of the pie plate. Fold this excess under the edge of the pie to form an extra thick edge on top of the pie plate rim. Flute the edges with your fingers. Cover the pie plate loosely with plastic wrap and refrigerate for at least 15 minutes or up to overnight before filling and baking. Repeat with the second half of the pie dough.