Top 10 Father's Day Gifts + Some Killer Menu Ideas
It seems like every year I have a great little gift guide ready to go for Mother's Day (I'm not above shameless hinting for myself), but usually slack off on getting something together for Father's Day. Poor dads! I still love ya. And in honor of that, I'm really, really excited for today's list of the top 10 gift ideas that would be fabulous for that father/father-figure in your life. These are fun.
And don't forget…down below the gift ideas, I've planned out a couple perfect Father's Day menus, so if you're shopping or cooking for the dad in your life (or your kids' lives), read on for some inspiration! As always, none of these items are sponsored; just straight up awesome things we've bought or been gifted that we love, love (there are a few Amazon affiliate links scattered throughout – feel free to shop around!).
Let's go!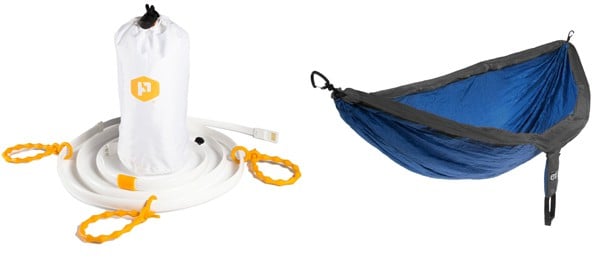 Luminoodle: Let's start of with perhaps the coolest gift in this whole list. Have you heard of luminoodle? Brian's brother, Brad, introduced us to this nifty little gadget-thingy, and I tell you what, it's been a hit (we've since gifted it to our own fathers as well as a couple siblings). It's basically an LED light strip that you can take anywhere. Brian's used his while camping, to investigate a broken valve in a narrow, deep pipe on our property (aaaannnndd, learned via the Luminoodle that the valve got broken thanks to four boys, who shall not be named, who threw rocks down the pipe), and various home improvement projects. This thing is cool. Be sure to get the battery pack with it.
ENO Hammock: I love hammocks! And I know this gift guide isn't about me, but…I love hammocks! And the ENO doublenest hammock is sweet. I gifted this to my dad last Christmas and he immediately hung it up between two deck poles (in the middle of winter in Montana) and reported on its awesomeness. Well-made, durable and super lightweight, this hammock is just calling to be napped in.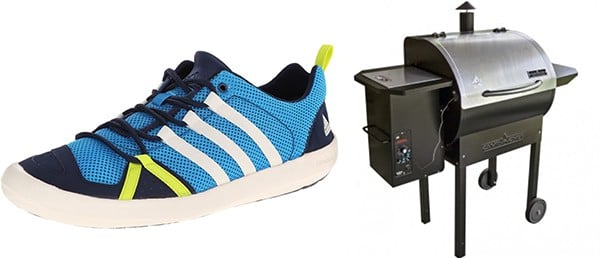 Adidas Boat + Water Shoes: Brian got these shoes a couple months ago (actually, after his brother Brad was wearing them on a hike we went on together – methinks his brother Brad, the luminoodle lover, has some great ideas), and honestly, I had to tell Brian the other day that he probably should take them off to shower at home. He wears them all the time – not even just on the boat or in the water. In fact, he wore them to Disneyland while we were there (he would like to state, for the record, that he would highly encourage the wearing of socks if walking that far in them) and loved how lightweight they are. I think I'm going to snag me a ladies pair. Oh wait! This gift guide isn't about me. Darn it.
Pellet Grill: I've expressed my love about my pellet grill/smoker before, but let me state again – I love this thing so, so, so much. We've gotten rid of our propane grill and a couple other outdoor cooking tools, because this pellet grill is all we use. Brian and I cooked on this thing steadily through the winter, and we easily fire it up 3-4X a week throughout the year. It's less expensive than competing Traeger-type pellet grills while still being high-quality, durable and totally amazing. If you're looking for a big ticket item, this should be waaaay high up on your list.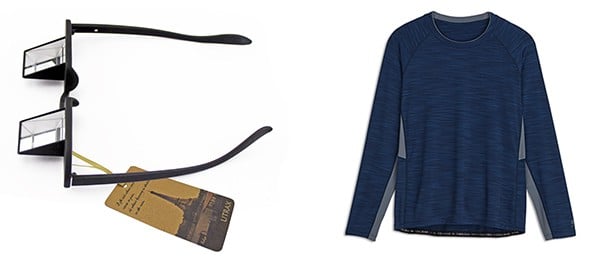 Lazy Prizm Glasses: I swear these are not a joke. And right now, I'm thinking I should dedicate this gift guide to Brian's brother, Brad, because these glasses were found by way of him, too. Brad gave Brian these glasses a few years ago at Christmas. I kind of thought it was a gag gift until I remembered how seriously Brian and his brothers take their duties to fat-dog it to the tune of SportsCenter once in a while (and by once in a while, I mean every night). Basically, these glasses mean you can watch TV (or read, but let's be serious, it's all about the TV) while laying down. You look like a complete dimwit while doing so, but you won't care because YOU CAN WATCH TV WHILE LAYING IN YOUR SUPER COMFY BED, and you won't have to strain a single muscle, not even your eye muscles. What have we become? Who cares. It's awesome.
Coolibar Rash Guard: My love for all things Coolibar started after so many of you recommended the products in the comments of my skin cancer post. I have several of their hats and a head-to-toe swimming suit (I'm so fashion forward), but since this gift guide isn't about me (ahem), let's talk about Brian's Coolibar rash guard. It is pure, lightweight, looking-good function. Between this, his swimsuit, and those shoes mentioned above, Brian basically has his whole summer wardrobe nailed down and is thrilled he didn't even have to get off the bed or take off the TV glasses to get to this point. Online shopping for super fashunable peeps for the win.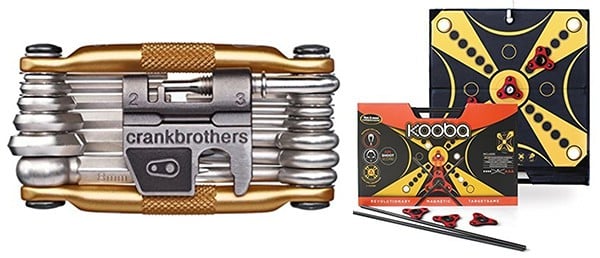 Crank Brothers Multi-Tool: This little baby is getting wrapped up for Brian's Father's Day festivities this year (after my brother, Jed, told me he was sure Brian couldn't live another Father's Day without it). This miniature, heavy-duty tool does 19 things (19 things!) and basically has me thinking (hoping?!?) it can probably fold the laundry, too. Except of course I'm not really thinking that because this gift guide is about Brian. Not me. Handy, handy, that's what this tool is.
Kooba game: A Christmas gift for my dad several years ago, Kooba is still a very popular game to play at my parent's house for kids and adults alike. I love games where the learning curve is short. That doesn't mean I'm good at this (I'm not, but Brian is, and I'm happy for him – unless he beats me). I've learned there are two groups of people in this world: those who are really good at slinging targets at the wall with two poles…and those who aren't.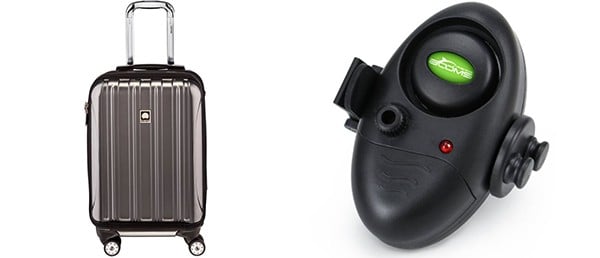 Luggage: I know, I know, luggage is kind of a yawn item, but it gets a pass this time because this awesome carryon is fantastic and perfect if your father-person is a traveler who needs a bit of a luggage upgrade. Brian had soft-case carryons for years and years, and this hard-case luggage is about a million times better. Plus, it's just more fun to use.
Booms Fish Alarm: Oh hey there. Let's end on another of Brad's recommendations, shall we? As an avid fisherman, Brad insists this thing has revolutionized his fishing life…he's even been known to doze off while fishing for catfish only to be gently awaken by this alarm all in time to still reel in his catch. Now if only he had a hammock to doze off in.
Now, let's talk a little Father's Day food!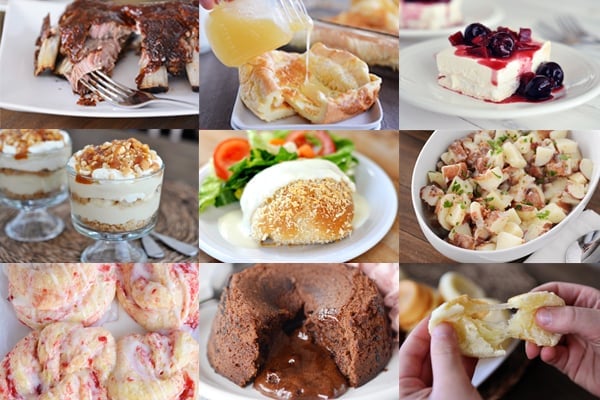 Here are three simple but delicious menus that would be perfect for Father's Day! I'm drawing straight from the files of Brian's favorite meals and desserts; he assures me all of these are winning combinations. I will say that two of his new favorite desserts (so amazing, they defy logic) will be posted in the next couple weeks so keep a lookout for them (they'll be hard to miss!).
Menu #1
Breakfast: The Perfect Cinnamon Rolls {Gloria's Famous Recipe}
Dinner: Slow Cooker Ribs + Potato Salad + Amazing Romaine Salad + Rosemary Bread
Dessert: Berries on a Cloud
Menu #2
Breakfast: German Pancake {Whole Grain Option} with Butter Syrup
Dinner: Broccoli Beef + Pao de Queijo + Honey Lime Fruit Salad
Dessert: Banana Pudding Caramel Cream Trifles
Menu #3
Breakfast: Overnight Strawberry Cream Cheese Sweet Rolls
Dinner: Chicken Pillows + Skillet Green Beans + Raspberry Ribbon "Salad"
Dessert: Chocolate Molten Lava Cakes