25+ Fabulous Food Gifts for Neighbors/Friends/Coworkers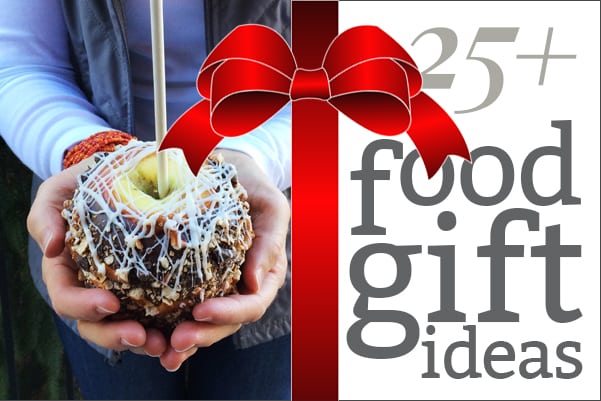 Tis the season for gift-giving! And not just the kind you buy at the store. As you and I know, homemade gifts are some of the best, especially when it comes to food!
I'm going to be posting more great food gifts over the next few weeks but here's a roundup of some of my very favorite holiday food gifts this time of year. If you put together one of those epic cookie plates (love those!), next week I'll also be posting the best cookie/treat recipes to add to your cookie plate.
Many of the recipes below include packaging ideas, but to summarize, I like to keep things simple with packaging and almost always use cellophane treat bags for packaging caramels and truffles and caramel apples and everything inbetween. I like the 5X11-inch bags for a bigger bundle of treats – there are smaller bags (like these 4X9-inch) for smaller portions. Hobby Lobby and other similar-type stores have pretty good selections (of bags and cute boxes and all sorts of cute packaging ideas) if you have a store like that in your area. I like to tie the top with a bit of colored twine and a tag and call it good. You could get as fancy as you like!
Some of my favorite out-of-the-box gift ideas would have to be a big, huge, pretty gourmet caramel apple, a jar of dulce de leche or hot fudge sauce, unbaked cookie dough for your friend to bake later, and homemade hot chocolate truffles. And don't forget the almighty cheeseball – I love giving cheeseballs as gifts. Kind of breaks up the sugar rush of the season. I'm also gifting homemade vanilla extract this year (sorry I didn't get a DIY up in time this year, but promise it will be up early next year in plenty of time for the holiday season with a cute, free printable).
I've said for years that food is my love language and I realize that little fact even more during the holidays. Happy holiday baking!
Disclaimer: I am a participant in the Amazon Services LLC Associates Program, an affiliate advertising program designed to provide a means for me to earn fees by linking to Amazon.com and affiliated sites. As an Amazon Associate I earn from qualifying purchases.